Drones are increasingly being adopted for uses outside of recreational and photographic endeavours, and the new offering from manufacturer Aerones demonstrates just that.
The Latvia-based company has developed its "heavy-lifting" drone for use in de-icing, cleaning and maintaining wind turbines.
[Read more: A drone flew through a fireworks display, and the result is breathtaking]
The company says the machine, which is tethered to a truck on the ground – or a boat if at sea – is capable of cleaning 10 wind turbines per day with "no component spoilage".
Aerones say the drone has an unlimited flight time because it is powered by electricity from the attached cable, as well as a ground-based water supply to clean and de-ice the blades. The drone can also transport cleaning and anti-freeze fluids.
A nozzle targets the blade and directs the fluid towards it, while the drone moves around in various patterns to cover the entire surface area.
It also features three parachutes which "eject automatically" if it starts to freefall, a radar to detect surroundings, a stabilisation system to ease piloting in harsh conditions, and a thermal and RGB camera.
Janis Putrams, Aerones chief executive, said: "The water is also pumped from the ground and we can use plain water, hot water or distilled water.
"We can also add cleaning solutions and anti-freeze liquids, but in any case we only use non-hazardous and bio-degradable chemistries.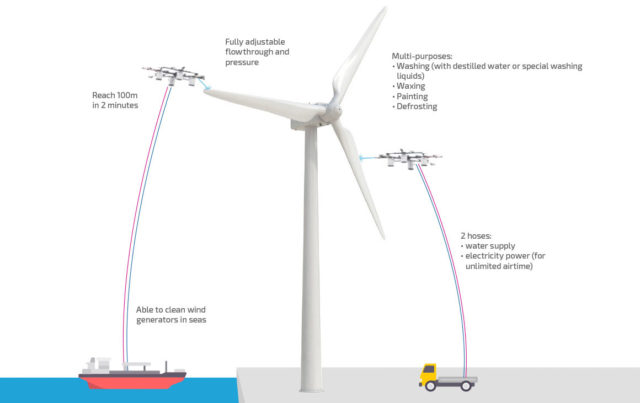 "On the ground, there is a truck or a trailer that has all necessary equipment.
"There is no need to connect anything to the wind turbine so the truck would have a landing and takeoff platform for the drone, it would have an electricity generator, and a high-pressure pump.
"In the future, we plan to do more software automatisation so actually, one person could do it or eventually, it would become completely autonomous and there would only be a central monitoring office that could monitor all the drones around the world."
Keeping wind turbines clean can increase their efficiency by as much as 20%, Aerones said on their website. The drone removes the high risk involved in using climbers to clean the turbines.
The company is looking at other applications for the device, including firefighting and human rescue.
Putrams said: "Right now, we plan to start with cleaning and de-icing of wind turbines because we have the technology and we really see the benefit that we can bring."
[Read more: Plan to fly passenger-carrying drone in Dubai]
Source
http://home.bt.com/tech-gadgets/tech-news/this-drone-can-clean-wind-turbines-aerones-11364260787320